MCDERMOTT FAMILY
Ulster County > NEWBURGH

MCDERMOTT * MCNAMARA * CONNELLY * BARTON * CARNEY * HALEY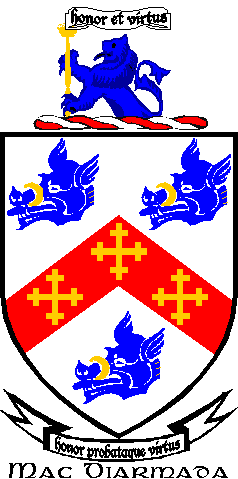 McDERMOTT of Ulster Co. / Orange Co. NY Family History
FAMILY GENEALOGY BULLETIN BOARDS:
McDermott's Social Security Numbers (as listed by SSDI after death)
FAMILY HISTORY
Newburgh City Directories 1889- 1892



McDermott's Buried In St. Thomas Of Canterbury Church , Cornwall NY
St. Thomas Cemetery founded year: 1800 Contact: 914-534-2019 ask for: Jerry St. Thomas Canterbury Church, 340 Hudson Street, Cornwall, NY 12590

FAMILY GENEALOGY BULLETIN BOARDS:
(Genforum) McDermott Family Genealogy Forum
(Resources.Rootsweb) McDermott
(Familyhistory) McDermott Message Board


Possible Related Messages on McDermott Bulletin Boards:
http://www.familyhistory.com/messages/showmsg.asp?forumid=11593&msgnum=11&gs=1 Possible Connection http://www.familyhistory.com/messages/showmsg.asp?forumid=29304&msgnum=238&gs Possible Connection
Thomas McDermott of Newburgh Mentioned in another persons Ancestry Charts


McDermott Social Security Numbers:
Some McDermott's Social Security Numbers (as listed by SSDI after death) "MCDERMOTT Newburgh"
Name Birth Death Last Residence Last Benefit SSN Issued Tools
MICHAEL MCDERMOTT 11 Jan 1900 Jun 1978 12550 (Newburgh, Orange, NY) (none specified) 072-05-8058 New York
TERRANCE MCDERMOTT 07 Feb 1896 15 Jan 1969 12550 (Newburgh, Orange, NY) 12550 (Newburgh, Orange, NY) 079-34-6851 New York
JAMES MCDERMOTT 10 Mar 1910 Jul 1975 12550 (Newburgh, Orange, NY) (none specified) 083-03-1211 New York
JOSEPH MCDERMOTT 30 Nov 1902 Aug 1981 12550 (Newburgh, Orange, NY) (none specified) 085-03-4923 New York
HELEN MCDERMOTT 16 Aug 1903 Mar 1975 12550 (Newburgh, Orange, NY) (none specified) 091-18-6881 New York
RAYMOND MCDERMOTT 24 Nov 1899 May 1970 12550 (Newburgh, Orange, NY) (none specified) 094-05-9309 New York
FRANCIS MCDERMOTT 14 Nov 1920 Mar 1992 12551 (Newburgh, Orange, NY) (none specified) 370-18-6846 Michigan

McDERMOTT of Ulster Co. / Orange Co. NY Family History
As Written / Compiled / Documented by A cousin ( Mary Ann Marcantonio)
If I add any additional information I will alter the font/or change the color of the words to indicate the difference between my research and my cousins.
( This is just a fraction of the information found on our family history)
OUR FAMILY HISTORY
The first of our family to arrive in America, was born in 1805 and his wife, Margaret seven years younger, was born in 1812. While in Ireland, they had three children. Thomas, the head of our family, was born 1834. His two brothers, Andrew and Charles were born in 1835 and 1836 respectively. Many of the elders have told us the story, that three brothers came over from Ireland together. This information that we have obtained from the 1840 census verifies this story that so many of us have heard over the years.
So this brings OUR FAMILY to America between the years 1836-1840. John was a farmer and his two older brothers, Thomas and Andrew were also farming. John and Margaret had no formal education. Neither of them could read or write. Thomas had no education either. He too, was not able to read or write. Farming kept the young men busy at home.
Once they arrived in America, seven more children were born. John was born in 1839 or 40, James was born in 1841 or 42, Margaret in 1843 or 44. Sarah M. 1845 or 46, Joseph in 1846 or 47, Elizabeth in 1849, and Eleanor was born in 1850. They were all born in Ulster County of New York. In 1840, the McDermott's were living in New Paltz. Nearby our family's home there was a family living by the name of Carney. One of their daughters, Jane, became the wife of our Thomas. Jane was born in 1836 in New York and as a child received some form of education. She could read and write. Her father's name was James, and in 1840 was in his twenties. Her mother, we do not know her name at this point, was also in her twenties. Both Jane's parents were born in New York. We know that Jane had one sister, which we do not know her name either. There could have other children, but as of 1840 they were not born yet. ** CARNEY LINK **
Sometime between 1840 and 1850, John, Margaret and their ten children moved to the town of Rochester, a small town outside of Ellenville.
This is the point in the history of the McDermott's and also of the Carney's, that we descend from. This is the common link in OUR HERITAGE
After Tom and Jane were married, they settled in Napanoch, another small town near Ellenville. They had fourteen children. They were all born in Napanoch. Ellen was their first child. In the census of 1850, her name was recorded as Elizabeth 0. Between the years 1855 and 1859, three more children were born. Mary was born in 1855. She died at a very young age. Sometimes between 1860 and 1870. Anna was born in 1857, Sarah Catherine was born in 1859. At the end of this decade they had four children and they were all girls.
Examining the census of 1860, we found that Thomas's personal estate was estimated at $100. Our elders can remember stories told by Jane that they lived in a one room cabin in which they raised all their children. Their children never lived at home (see page 2)
THOMAS MERL MCDERMOTT
Thomas was born August 25,1861 during the Civil War. He was the first boy born to Tom and Jane and was their fifth child. He was a laborer by trade at his maturity He married Rose Lennon. She was born in 1861. They had two children and during their youth they made the move to Newburgh around the year 1894, about 6 years after the rest of the family. Rose died November 6, 1900, just short a month after the death of her Father-in-law. She was 39. Tom married again. He married Helen R.Barley. Helen was married before and had two children by her first husband, Edith and John. John married his step-father's niece Helen was born in 1868 and her daughter-in-law has told me stories about Helen at the age of 11 she crossed country in a covered wagon and even experienced an Indian Attack. Tom and Helen had one child1 Clifford. Helen died of cancer. Tom died August 30, 1956, just five days after his 95th birthday. He was of Orange Counties Oldest Residents. He was the last surviving member of his family. He is buried in Woodlawn Cemetery. Tom was a member of Oak Street Baptist Church. Tom had lived on Riley Road in Vails Gate over 52 years, moving in, in 1904.


???????????????????
all at the same time. Ellen was 27 years old when the youngest was born. And at this time Ellen was married and had children of her own. It would even be safe to assume that Anna and maybe even Sarah, were married at this time, 1882. They were 23 and 21 when ~en was born. So maybe there could have been ten at home at one time.
We often fail to think of our family playing in our nation's history. Tom did. He enlisted in the New York Volunteers on September 25,1861 to serve his new country, a country that still looked down on the Irish as a lower class of people. He was 27 years old. He was assigned to Co. E 80th Regiment. Jane had just had a child,their first boy,and they named him Thomas Men. He was born August 25,1861, just one month before his father enlisted to join forces in the Civil War. Jane was left to care for her four girls and her infant. Ellen was 7 , and must have had to grow up very fast to help care
-for her sisters and brother. Mary was 6, Anna was 5, and Sarah 2. We do not know when he was discharged. He left the armed forces with the rank of Private. He must have come home between 1864 and 1865. Their sixth child, named lantha was born in 1865.
In the years to follow, eight more children were born. In August of 1866, Abraham was born. John Joseph was next, he was born in July of 1870. Margaret or Maggie as she was called, was born 1874, Frederick, was born in 1876, William in 1878, the twins Edward and Ernest, on December 25,1879,and their baby, Benjamen, was born in 1882. Tom was 48 years old and Jane was 46 when their last child was born.
Our family moved to Newburgh probably in 1887. Abe appears to have been the first to have made the move with Tom, Jane, John, Maggie, Fred, Willie, Eddie Ernie, and Ben followed in 1888. They boarded at 7 Edward Street. This building is no longer standing. It appears that Ellen moved to Newburgh around 1893. She lived on Hasbrouck Street. Anna, we don't think she ever lived in Newburgh. She seemed to have settled in the Otisville area after her marriage to William Northrup. We don1t know when Sarah moved, but she toomade the move to this town. Thomas, their oldest son, moved to Newburgh with his wife and two sons around 1894. They were living in Monacuse in Ulster County. They also moved to 7 Edward Street. lantha also never lived in Newburgh. She had settled in Walden after her marriage to Warren Burns.
In 1899, Jane and Tom's family which has dwindled down to only three children left at home now, Fred Edward and Ben.In this year they moved to 67 Benkard Ave.. In the year to follow Thomas died on October 12,1900. He had suffered three months with Tuberculosis. This was the chief cause of his death although he suffered many years, some tell us, it was nearly 20 years, that he suffered with Rheumatism. Tom was 65 and this was the first death in the family circle.
After Tom's death, Jane stayed at 67 Benkard Ave.. By 1902, Fred was on his own, and it appears that Edward and Benjamen were both married in this year. Jane being left home alone, moved in with Ernest and his wife Elizabeth. In 1905 Ernest moved to Kingston. Jane made the move with them, but sometime between 1905 and 1908 she moved in with her daughter lantha in Walden. It was here she lived until her death, February 26, 1908. The chief cause of her death was a heart attack. She was 72 years old. Both Tom and Jane are buried in Woodlawn Cemetery. From these two wonderful people, there decendents, 14 children, 45 Grandchildren, 70 Great -Grandchildren, 135 Great-Great Grandchildren, 39 Great-Great-Great Grandchildren, and
2 Great-Great-Great-Great Grandchildren. There is 9 Grandchildren still alive that could possibly remember Jane and only 1 Grandchild is alive that could remember Thomas.
As of this day, our families first reunion, July 27,1980, our family is 305 people strong, with 135 sharing our heritage by marrying into our family.There are some people left out of this booklet. It has not been done intentional~y. We are still doing research everyday, and adding new names continuously.
TANTHA MCDERMOTT BURNS

lantha was born in 1865, also in Napanoch, New York. She was the sixth child born. She had some education. She was able to read and write. Our elders remember her as being a very tiny woman. She married Warren Burns. Warren was an expert on cutlery at the Walden Knife Works. They had one child, Verdon. They lived in Walden most of their married life. Little is known about this family from this point on. Our elders can remember taking the trolly to Walden to visit her.
We don't know when she died other than she was dead before her brother Edward. She was not listed as one of his survivors. So we are assuming she died before 1949.
Their son, Verdon, was born in 1892. He owned a store in Walden. He made and sold Do-nuts.

MARY MCDERMOTT
Mary is a mystery to most of the family. She was born in 1855 and was the second child to Tom and Jane. She died between the years 1860 and 1870. We have figured she must have died early during the
1860's because the children do not remember her. At least there was never any mention of her name to those who were born after her. We haven't been able to find any grave.

ANNA MCDERMOTT NORTHRUP
Anna was the third child born around 1857. She was married to William Northrup and had settled in the Otisville area. Anna was married before our family made the move to Newburgh. They had three children, Percy) Blanche, and Rita. Little is known of this family. They rarely made visits to the McDermott's in Newburgh. Some our elders can remember visiting lantha in Walden and on some visits Anna and her family were there too. Percy died young at age. Blanche married William Kettecham of Port Jervis. They had three children, Kenneth, Amos, Anna. Rita married Glass.

SARAH CATHERINE FINNEN BELL
Sarah, the fourth born, was born in 1859. Up to this point now, all the McDermott's are girls. Sarah had some schooling, she could read but, could not write. She was married twice. Her first marriage was to W. Finnen. Her second marriage was to Frank M.Bell. She had no children by either marriage. Sarah was tall, kind and had a nice smile. This is the way some of our elders remember her. Sarah died on March 9,1932 in Newburgh at the age of 72. The chief cause of death was a heart attack. Frank is remembered as having a wooden leg and walked with a cane. He loved smoking a pipe or a cigar. Frank died on August 1,1934 at the age of 81 in a hunting accident. Both Sarah and Frank had their funeral services from Oak Street Baptist Church and were buried in Woodlawn Cemetery.

FREDERICK MCDERMOTT
Fred, their tenth child born, was born in 1876. He like the others were born in Napanoch. He was a hatter by trade like so many of the McDermott brothers. Many of our family remember Fred. He married Jane or Liz Gaffin. Fred died January 8, 1915 at the age of 39 of Tuberculosis. He is the first one of the children to die after they reached maturity. Funeral services were held at Saint Patrick's and burial was in Calvery Cemetery.


ELLEN MCDERMOTT SIMPS0N
Ellen was the oldest of the fourteen children. She was born June 25, 1854 in Napanoch, New York. She married Peter Simpson. Peter was born March 7, 1845 to John and Nancy Simpson. (John was born in 1805 and Nancy was born in 1804.) Peter, like his Father-in-law was a Civil War Veteran. Ellen and Peter had two children. Ellen died in Walden on July 29,1932 at the age of 78. This was the third death in the family circle in three months. Ellen's sister Margaret died in March and Sarah died also in July. Peter died, July 12,1914 at the age of 69. He had a stroke that left him with no voice and both arms paralyzed. Ellen and Peter are both buried in Woodlawn Cemetery. This is the only generation that has started it's seventh generation.

ABRAHAM P. MCDERMOTT
Abe was born August 1866 in Napanoch, New York. He was the seventh child born. Abe had some education. He could read but could not write. In~I88O he was working in a papermill. He later became a hatter. Abe was the first to have moved to Newburgh, around 1887. He boarded at 7 Edward Street until 1893, which is probably the year he got married to Mary McNamaro. (Her parents were John and Margaret Doyle McNamaro). They had.seven children which has made up one of the largest families. Abe died February 10,1955 at the age of 88 after a long illness. He was crippled up with arthritis and Rheumatism. He was buried in St. Thomas's Cemetery in Cornwall,N.Y.. His wife, Mary died August 1, 1910

JOHN JOSEPH MCDERMOTT
John was born July 22, 1870 in Napanoch, N.Y.. He was the eighth child born. He, again, was a hatter by trade. He married Margaret M. Blake around the year of 1893 and probably made their first home on 22 Johnson Street. Margaret was born in County Cla Zire, Ireland and the port of entry was Washington, D.C.. JOhn died November 27,1935 at St. Luke's Hospital of a heart attack. He was ill for two weeks. Margaret died at home, March 28,1951 after a long illness. She had lived in Newburgh nearly 60 years. Both Margaret and John had their funeral services from St.Patrickts Church and buried in Calvery Cemetery.

MARGARET MCDERMOTT FINNEGAN
Maggie, as she was called, was born in 1874 in Napanoch~ N.Y.. In 1880 she was attending school. She moved to~Newburgh with her parents around 1888. In 1895 she moved out of her parents home, so this is probably the year she got married. She married Patrick Finnegan. Patrick was born in 1873. Their first home was probably 252 First Street. Maggie was very well liked by everyone. Her brothers especially were very close to her Our elders have told us, that it was very often that you could find one of the McDermott boysat her home. Margaret and Patrick had three children. Maggie died July 3, 1932. Patrick died in 1945. Both had their funeral services cbnducted from St. Patrick's Church, Newburgh, and was buried at Calvery Cemetery.

EDWARD MCDERMOTT
Edward, the twin to Ernest, was born on December 25, 1879, also in Napanoch, New York. Wewill labelhim as the twelfth child born since we don't know which one of the twins was born first. He too, was a hatter by trade. He married Hattie McCann possibly around the year 1902 Hattie was born in 1891 to George H. and Madora Gedley McCann. Edward and Hattie had eight children. Edward died on April 7, 1949 at his home at the age of 68. Hattie died August 10, 1961. Edward's funeral service was held in St. George~s Episcapol Church. Both are buried in Woodlawn Cemetery.

WILLIAM MCDERMOTT
"Wi~lie", as he was called1 was born in 1878 in Napanoch, New York. He was the eleventh child. He was a painter. He served the United States during the Spanish-American War. He married Elizabeth " Julie" Witzenbacher. Julie was born June 23,1880 to Casper and Elizabeth Trim Witzenbacher. They were probably married around the year 1899. They made their first home on 252 First Street in the same building as his sister Maggie. They had four children . Willie died1 November 2,1941 at St. Luke's Hospital after a short illness. He was 63 years old. Julie died November 311932 ten days after a gastric operation. She was 52. Both WTllie and Julie had their funeral services from St.Patrick1s and were buried in Calvery Cemetery.

ERNEST MCDERMOTT
Ernest, the thirteenth child and the twin of Edward, was born on December 25, 1879, in Napanoch, New York. In 1901 he started his apprenticeship in plumbing and was probably married also in this year. He did become a plumber and he taught the profession to his oldest son, Thomas. He married Elizabeth Fox. She was born January 8, 1877 in Brooklyn, N.Y., to Thomas and Ellen Fox. Ernest and Elizabeth had five children. Ernest was killed in a Hit-and-run accident on April 25,1924 on Route 94. He was 42 years old. Elizabeth died on March 31, 1962. She was 82 years old. Ernest was buried in Woodlawn Cemetery, New Windsor,N.Y..

BENJAMIN MCDERMOTT
Ben was the fourteenth child, and also the youngest. He was born in 1882. He was a painter and a hatter later in his life. He married possibly around 1902 to Leona Brewer. Leona was born in 1882 in Newburgh, N.Y to Harvey and Alice Van Voorhis Brewer. They had three children. Ben died March 28, 1952 at the age of 70. Leona died April 28, 1951, at the age 69. Both Ben and Leona had funeral services said at Moulton Memorial Baptist Church and are both buried in Woodlawn Cemetery. NOTE: Harry McDermott and Florence McDermott died in infancy. Lillian McDermott died August 14, 1981 at the age of 74. She was buried In Woodlawn Cemetery, New Windsor.


I found this information I believe at the Calvary Cemetery Office:
898 McDermott, Anna May Age: 14 years 3 days 25 East Parmenter St Died: June 12 Buried: June 15 1910 #3 A-31
John and Margaret Parents: Donahue Sons funeral Home



Calvary Cemetery Burial Information:
John J McDermott Jan 02 1955
Margaret Mary Haley McDermott July 07 1953
Felix Haley 1966 Bro of John (1960) and Margaret
John Haley 1960 Bro of Felix and Margaret
John Joseph McDermott Nov 27 1935
Margaret McDermott Finnegan July 03 1932 Bro/Sis
Frederick McDermott Jan 08 1915 "
William McDermott Nov 02 1941 "
Mary Ann Connolly Haley?? March 27 1947 Calvary Cemetery New York City Near Maspeth

________________________________________________________________________________
Woodlawn Cemetery:
Thomas McDermott Oct 12 1900
Jane Carney McDermott Feb 26 1908
Ellen McDermott Simpson July 29 1932 Bro/Sis
Sarah Cath Finnen Bell March 9 1932 "
Thomas Merl McDermott Aug 30 1956 "
Edward McDermott Apr 07 1949 "
Ernest McDermott Apr 25 1924 "
Benjamin McDermott March 28 1952 "

________________________________________
St Thomas Canterbury Conrwall New York
Abraham McDermott Feb 10 1955
Mary McNamara McDermott Aug 01 1910


_________________________________________

Other Calvary Cemetery Burial Information:
Patrick McDermott Feb 06 1911
Hannah McGrath June 01 1915
William Wellington J Feb 04 1918
Charles Albert A Feb 21 1928

William McDermott Jan 14 1876 - Nov 02 1941 30+ rows in front of John McDermott
Wife: Julia E Witzenbocker June 23 1880 - Nov 3 1932
Son: William McDermott Oct 27 1902 - Feb 17 1961
Edward P Haley Aug 17 1905 - Oct 19 1935 10 down and 20 left of Felix Haley

McDermott Feeney Helen 1886- 1974
Martin 1877-1954
Emily McDermott 1862-1945

James McDermott Died: Feb 17 1936 Age: 71 yrs aged
Wife: Mary Minter Died: Dec 23 1913 Age: 42 yrs aged
RIP



Margaret Mae McDermott
McDermott- Entered into rest on Tuesday, July 7 1953, Margaret (Mae) wife of John J McDermott of 27 Benkard Avenue, this city. The funeral will take place from Toohey Brothers Funeral Cahpel, 24 Lander Street, Friday, July 10 1953 at 9:30am thence to the church of St Patrick's where at 10 a solemn Mass of requem will be offered to which relatives and friends are invited. Friends may call at Toohey Brothers Funeral Chapel Thursday afternoon and evening. Thursday evening St Patrick's Rosary Society will meet at 8:15 at Toohey Brothers Funeral chapel. The Ladied Auxiliary of Veteran Fireman will hold services this evening at 8 o'clock at the Funeral Chapel. Interment Calvary Cemetery.
Margaret M. McDermott- Mrs Margaret Mae McDermott of 27 Benkard Ave. died at home yesterday (July 7 1953) after a short illness. She was the wife of John J McDermott and was born in New York Cit. She lived in Newburgh for the past 40 years and was the daughter of the late Patrick and Mary Ann Connelly Haley. Survivors include her husband, two sons, John J McDermott Jr. and Kenneth M McDermott of Newburgh; three daughters, Margaret wife of Frederick W Harding of Englewood NJ; Dorothy T and Estelle M of Newburgh; three brothers, Felix Haley, Edward Haley and John Haley all of Newburgh; One sister Mrs. James McDaniel of New Windsor; four grandchildren and several neices and nephews. She was a member of St Patrick's church the St Patrick's Rosary Society and the Ladies Auxilliary of the Veteran Fireman. The Rosary Society of St Patrick's Church will meet at Toohey Brothers Funerla Chape, 24 Lander St on Thursday at 8 pm to offer prayers. The funeral will take place at Toohey Brothers Funeral Chapel on Friday at 9:30 am. At 10 am a solemn high Mass of Requiem will be offered at St Patrick's Church. Interment will be in Calvary Cemetery.
The Newbugh News, Newburgh NY Wednesday, July 8 1953 " Death Record in Newburgh Area"





CALVARY CEMETERY HEADSTONES: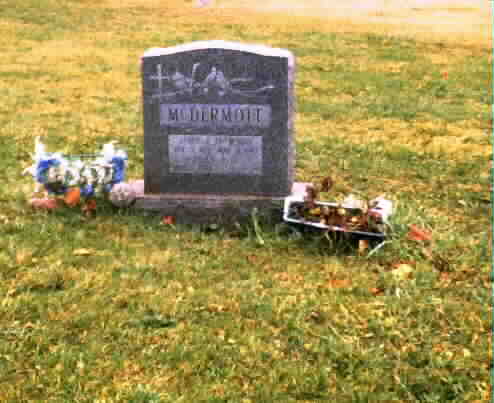 (Nov 2000)
John McDermott
Dedicated Newburgh City Fireman
"Uncle Bud" to some and "Brother" to others
"MOON"

Newburgh City Directories 1889- 1892


| | | | | | | | |
| --- | --- | --- | --- | --- | --- | --- | --- |
| Name | Business Name | Occupation | Location 1 | Location 2 | City | State | Year |
| Abraham McDermott | | hatter | | boards 7 Edward | Newburgh | NY | 1889 |
| Andrew McDermott | | laborer | | 143 Washington | Newburgh | NY | 1889 |
| Miss Annie McDermott | | operator | | boards 143 Washington | Newburgh | NY | 1889 |
| Fred McDermott | | wire worker | | boards 7 Edward | Newburgh | NY | 1889 |
| James McDermott | | laborer | | boards 143 Washington | Newburgh | NY | 1889 |
| John McDermott | | laborer | | 242 Ann | Newburgh | NY | 1889 |
| John J. McDermott | | hatter | | boards 7 Edward | Newburgh | NY | 1889 |
| Miss Maggie McDermott | | operator | | boards 143 Washington | Newburgh | NY | 1889 |
| Miss Maggie McDermott | | weaver | | boards 7 Edward | Newburgh | NY | 1889 |
| Maria McDermott | | seamstress | | boards 143 Washington | Newburgh | NY | 1889 |
| | | | | | | | |
| --- | --- | --- | --- | --- | --- | --- | --- |
| Name | Business Name | Occupation | Location 1 | Location 2 | City | State | Year |
| Mary McDermott | | widow | | 308 Water | Newburgh | NY | 1889 |
| Miss Mary McDermott | | | | boards 242 Ann | Newburgh | NY | 1889 |
| Patrick McDermott | West Shore Railroad | foreman | | 219 Water | Newburgh | NY | 1889 |
| Patrick McDermott | | laborer | | boards 143 Washington | Newburgh | NY | 1889 |
| Thomas M. McDermott | | laborer | | 7 Edward | Newburgh | NY | 1889 |
| Abraham McDermott | | hatter | | boards 7 Edward | Newburgh | NY | 1890 |
| Andrew McDermott | | | | | Newburgh | NY | 1890 |
| Mrs. Andrew McDermott | | widow | | 143 Washington | Newburgh | NY | 1890 |
| Miss Annie McDermott | | operator | | boards 143 Washington | Newburgh | NY | 1890 |
| Fred McDermott | | wire worker | | boards 7 Edward | Newburgh | NY | 1890 |
| | | | | | | | |
| --- | --- | --- | --- | --- | --- | --- | --- |
| Name | Business Name | Occupation | Location 1 | Location 2 | City | State | Year |
| James McDermott | | laborer | | boards 143 Washington | Newburgh | NY | 1890 |
| John McDermott | | ship carpenter | | boards 68 S. Water | Newburgh | NY | 1890 |
| John McDermott | | laborer | | 242 Ann | Newburgh | NY | 1890 |
| John McDermott, Jr. | | mason | | boards 242 Ann | Newburgh | NY | 1890 |
| John J. McDermott | | hatter | | boards 7 Edward | Newburgh | NY | 1890 |
| Miss Maggie McDermott | | operator | | boards 143 Washington | Newburgh | NY | 1890 |
| Miss Maggie McDermott | | weaver | | boards 7 Edward | Newburgh | NY | 1890 |
| Maria McDermott | | seamstress | | boards 143 Washington | Newburgh | NY | 1890 |
| Mrs. Mary McDermott | | laundress | | 315 Water | Newburgh | NY | 1890 |
| Miss Mary McDermott | | | | boards 242 Ann | Newburgh | NY | 1890 |
| | | | | | | | |
| --- | --- | --- | --- | --- | --- | --- | --- |
| Name | Business Name | Occupation | Location 1 | Location 2 | City | State | Year |
| Michael McDermott | | boatman | | boards 315 Water | Newburgh | NY | 1890 |
| Patrick McDermott | West Shore Railroad | foreman | | 219 Water | Newburgh | NY | 1890 |
| Patrick McDermott | | laborer | | boards 143 Washington | Newburgh | NY | 1890 |
| Thomas M. McDermott | | laborer | | 7 Edward | Newburgh | NY | 1890 |
| Abraham McDermott | | hatter | | boards 7 Edward | Newburgh | NY | 1891 |
| Mrs. Andrew McDermott | | widow | | 143 Washington | Newburgh | NY | 1891 |
| Miss Annie McDermott | | operator | | boards 143 Washington | Newburgh | NY | 1891 |
| Fred McDermott | | hatter | | boards 7 Edward | Newburgh | NY | 1891 |
| James McDermott | | laborer | | boards 143 Washington | Newburgh | NY | 1891 |
| James McDermott | | laborer | | boards Federal n Washington | Newburgh | NY | 1891 |
| | | | | | | | |
| --- | --- | --- | --- | --- | --- | --- | --- |
| Name | Business Name | Occupation | Location 1 | Location 2 | City | State | Year |
| John McDermott | | ship carpenter | | boards 70 S. Water | Newburgh | NY | 1891 |
| John J. McDermott | | hatter | | boards 7 Edward | Newburgh | NY | 1891 |
| Miss Maggie McDermott | | operator | | boards 143 Washington | Newburgh | NY | 1891 |
| Miss Maggie McDermott | | operator | | boards 7 Edward | Newburgh | NY | 1891 |
| Maria McDermott | | seamstress | | boards 143 Washington | Newburgh | NY | 1891 |
| Mrs. Mary McDermott | | laundress | | 315 Water | Newburgh | NY | 1891 |
| Michael McDermott | | boatman | | boards 315 Water | Newburgh | NY | 1891 |
| Patrick McDermott | West Shore Railroad | foreman | | 219 Water | Newburgh | NY | 1891 |
| Patrick McDermott | | laborer | | boards 143 Washington | Newburgh | NY | 1891 |
| Thomas M. McDermott | | | | 7 Edward | Newburgh | NY | 1891 |
| | | | | | | | |
| --- | --- | --- | --- | --- | --- | --- | --- |
| Name | Business Name | Occupation | Location 1 | Location 2 | City | State | Year |
| Abraham McDermott | | hatter | | boards 7 Edward | Newburgh | NY | 1892 |
| Mrs. Andrew McDermott | | widow | | 143 Washington | Newburgh | NY | 1892 |
| Fred McDermott | | hatter | | boards 7 Edward | Newburgh | NY | 1892 |
| James McDermott | | laborer | | 67 Liberty | Newburgh | NY | 1892 |
| James McDermott | | laborer | | boards Federal n Washington | Newburgh | NY | 1892 |
| John McDermott | | laborer | | 303 Ann | Newburgh | NY | 1892 |
| John J. McDermott | | hatter | | boards 7 Edward | Newburgh | NY | 1892 |
| Miss Maggie McDermott | | operator | | boards 143 Washington | Newburgh | NY | 1892 |
| Miss Maggie McDermott | | operator | | boards 7 Edward | Newburgh | NY | 1892 |
| Miss Maria McDermott | | seamstress | | boards 143 Washington | Newburgh | NY | 1892 |
| | | | | | | | |
| --- | --- | --- | --- | --- | --- | --- | --- |
| Mrs. Mary McDermott | | laundress | | 315 Water | Newburgh | NY | 1892 |
| Michael McDermott | | boatman | | boards 315 Water | Newburgh | NY | 1892 |
| Patrick McDermott | West Shore Railroad | foreman | | 219 Water | Newburgh | NY | 1892 |
| Patrick McDermott | | laborer | | boards 143 Washington | Newburgh | NY | 1892 |
| Thomas M. McDermott | | | | 7 Edward | Newburgh | NY | 1892 |

IRELAND >? > New York > Poughkeepsie NY > Newburgh NY > New Windsor NY >> WORLD !!!
ALBANY AREA's * DUTCHESS Co. * ORANGE Co. * ULSTER Co.
WHALEN * O'CALLAGHAN * FEATHERSTONE * BROSNAHAN * HOULIHAN * KELLY * DWYER
MCDERMOTT * MCNAMARA * CONNELLY * BARTON * CARNEY * HALEY





Email with questions , comments or concerns:
WEB MASTER AND DESIGNER: Joseph F. Whalen
This Page was last modified on : September 19 2000
Return to the Whalen Family Home Page
Number of Visitors Since September 2000: